Proceeds to benefit h.o.p.e…j.o.y.
I have to say that now I really see why it's important to keep having screenings all across the globe, so people who don't know all that hooping can offer can view this documentary. I am on a mission to host another screening specifically so non-hoopers can see it and we can raise money for an awesome cause, say on a college campus…I would encourage other hoopers to consider doing the same. It's great that we are all coming together as hooping communities to view the film, but I can see the benefit of now branching out and showing the film for the greater good, to share more awareness to those who are not even aware of hooping. The collective stories in the film show a broad range of how the hoop can transform individuals…this film had a message for many people, not just hoopers….so think about that, especially if you are sitting on the fence about hosting your own screening. This is what I took away from the experience of this event. I was actually surprised and didn't expect to even be thinking about how else I could share the film with others. I simply figured one screening would be enough. That tells me right there, it is powerful. It left me hungry to get the message out there more. How about you??
The DC Hoop Collective, Washington, DC – Screening and Hooping workshop with Tisha
The DC Hoop Collective's screening of The Hooping Life film for World Hoop Day was an incredible success for the Washington, DC area. Many of those who attended had never heard of hoop dance and weren't aware of this modernized style of hula-hooping. Plus, hoop dancers from outlying areas came to the screening who didn't know about the DC Hoop Collective. As a result, our hoop group was thoroughly activated by the screening. We now have many more hoopers out for our weekly hoop jams, which has been great for promoting our hoop classes and other community-based projects. Screening the Hooping Life in Washington, DC was fun, enlivening for our community and helped to introduce more people in DC to this amazing dance form. We raised 0 that was donated to World Hoop day.
By Jaguar Mary, Founder, Sacred Circularities
-
CAMP DIVA, RICHMOND, VA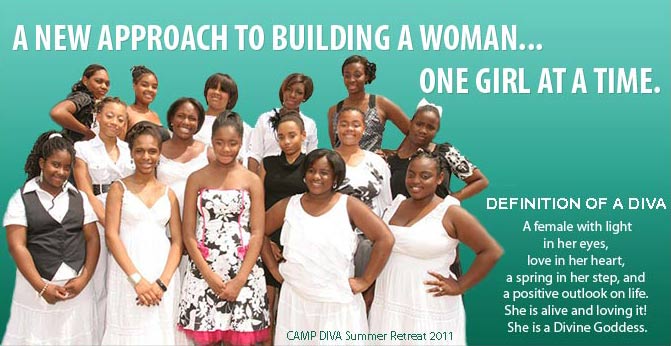 Camp Diva, Reel Divas Film Festival, Richmond, VA – Screening
Camp Diva's screening of The Hooping Life was AWESOME! One of the best things that came out of our screening is that it allowed people that did not "get it" to get an understanding of "why we hoop"! And now my non-hooping friends are asking for hoops and want to learn. In fact one of them just asked me yesterday (30 days after our screening) if we could screen it again!! Camp Diva is honored to have been the first organization to screen The Hooping Life.
By Ayana Obika-Clayborne, Special Events/Fundraising Committee Chair
-
LUCAS HOOPING, ALAMEDA, CALIFORNIA
Betty Lucas & Lucas Hooping, Alameda, CA – Screening, Hoop Jam & Performance by Tisha. Proceeds benefit Rythmix Cultural Works, a community cultural arts center in Alameda
I simply loved the movie. There is NO reason this movie should not be nationally released, especially after the buzz around these one-off events! Hard to break into mainstream media with the subject matter, albeat most of the audience was from the hooping world. That said, I believe if the marketing is tailored to anyone with a dream, especially during this downturn economy, it will break the hoop ceiling as an entrepreneur's delight!
By Betty Lucas, Founder, Lucas Hooping
-
ASHEVILLE HOOPS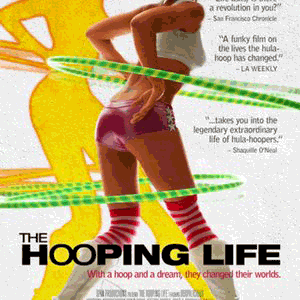 Rob Grader, Asheville Hoops & Cosmic Hooper's Emporium of Bliss Asheville, NC
The Asheville screening of The Hooping Life was a big success and was thoroughly enjoyed by everyone in attendance. We had about 50 excited hoopers in the theatre at Asheville Pizza & Brewing Company. For the first 30-45 minutes, everyone socialized a bit while enjoying some tasty local beer and purchasing raffle tickets for the plethora of wonderful prizes – which included a polypro LED hoop! During this time a slide show was playing, showing wonderful photos of our local hoop community over the past 5 years. We began the film shortly after 10pm, and Shaq teaser was a fantastic and humorous introduction! At one point there were some slight technical difficulties (the projector bulb went out), but this was fixed relatively quickly. The audience reaction to the film was fantastic, and many of the theatre employees commented on how much they enjoyed watching it too! After the film, everyone was jubilant as we discussed our favorite parts and agreed that it was fabulous! It was eye-opening for some, inspiring for most, and entertaining for all! We ended the evening by drawing winners for the raffle prizes, and I felt extremely satisfied as everyone departed and expressed their gratitude.
Personally, this documentary resonated with me on so many levels – as a hooper, performer, business owner, someone who has struggled with depression, and simply as a human being…I was filled with emotion and brought to tears more than once. It surpassed my expectations, inspired me, motivated me, reinforced many of my own choices and decisions, and was well worth the wait!
I think the filmmakers did an outstanding job of showing the range that hooping has, and the diversity of fascinating characters within this subculture.
By Rob Grader
-
KANSAS STATE
Kansas State University – Screening and LGBTQ Hooping workshop with Karis
A community film about open minds & hearts, a visual treat for the soul….Showing this movie and working with Karis for Union Program Council's Awareness Week was such an enriching experience for our campus – like nothing we've ever had before!
By Ashleigh Herd, Union Program Council Films Co-Chair
-
HAMPSHIRE COLLEGE
Hampshire College – Screening and Anti-bullying hooping workshop with Tisha
"It's a fascinating film. You can see how hula-hooping has been transformed into an art form," says Professor of Sociology Margaret Cerullo, who worked closely with Goldstein during her time as a Hampshire student. "Amy had a very strong grounding in social science, and always had one foot in the avant-garde world and one foot in pop culture. This film grew out of a passion."
By Margaret Cerullo, Professor of Sociology, Hampshire College
-
MATAHOOPS, TAMPERE, FINLAND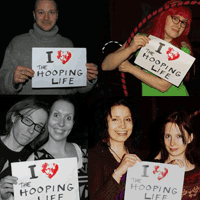 Henna Matanuska & Matahoops, Tampere, Finland – Screening
The Hooping Life was a touching and beautiful movie…Big thanks for making it!! Our event went great!…Some non- hoopers came to the screening… after seeing the film, they all wanted to hoop and that is so great.
There are not so many men hooping yet in Finland, so it's good that there are some in the film. One guy came to ask me for a hoop after seeing The Hooping Life!!…
Everyone who came to see movie were feeling better after!
By Henna Matanuska, Founder, Matahoops
-
BEKA HOOP & IHOOPU, MONTREAL, CANADA
Beka Hoop & iHoopu, Montreal World Film Festival, Canada – Screening, Hoop Jam, Hoop performance, Q&A with director and producer, Workshops with Anah and Ann Humphreys from the Hoop Path
I feel very lucky to have hosted the film. With the help of the producers of the film I was able to perform at a bunch of high profile events, like the opening party for the Montreal World Film Festival. We had a big hoop jam to promote the film and promote hooping in Montreal and we also had workshops with Anah/Hoopalicious who is in the film. It was kinda like this mini festival in the middle of this giant film festival. Hooping is still relatively young in comparison to other subcultures. When you're building a hoop community it is like a rollercoaster. People get excited, you get press and then it goes down. The Hooping Life gave the push we needed to get hooping out there to a larger audience. Now all of our classes are full and we have tons of demands for hoops. I'm still getting emails and telephone calls from people who came to the screening.
By Rebecca Halls, Founder, Ihoopu
-
PITTSBURGH FILMMAKERS
Gary Kaboly & Pittsburgh Filmmakers, Pittsburgh, PA
O wow. What can I say? The Hooping Life was totally awesome! I only wish the whole world could have been there on April 19 when it showed here in the Steel City. We had such a great time– those who were in attendance had a blast, celebrating life in the hoop together, and twirling to their hearts content right on the street in front of the theater. I'm sure it was quite a scene for those passing by! Indeed there was a lot of rubber-necking going on with drivers staring at such a spectacle! It was awesome to meet some new hoopers from towns outside of the city and expand each of our circles! The film seemed to deeply impact, inspire, and touch hoopers and hoop-appreciators alike. It was SUCH a delight and a real blast of life in the 'burgh! I personally have had my eye on this film the whole time I've been a hooper (nearly 4 years now?? sheesh!) and the film both lived up to and even superseded my expectations. It was utterly fabulous. Thanks so much to you for all you did to make it possible!!
Regarding any advice, hmmm… I'm not really sure what do say. I think you are doing a stellar job in getting this all together, making it an approachable and manageable endeavor for folks to bring it to their varying locations! THANK YOU AGAIN!
-
GUELPH-WELLINGTON WOMEN IN CRISIS, ONTARIO, CANADA
Heather Couture, Guelph, Ontario, Canada, Screening & Hoop Jam
Guelph-Wellington Women in Crisis is a feminist community-based organization providing services to women and their children on woman abuse and sexual violence. We believe our services must be inclusive and equitable for all individuals accessing our programs while being responsive to issues of race, gender, religion, age, sexual orientation, socio-economic status and/or abilities.
Marianne's Place (shelter)
Transitional and Housing Support Program (THSP)
Family Court Support Program (FCSP)
Rural Women's Support Program (RWSP)
Sexual Assault Centre (SAC)
24-hour Crisis Line
There are no fees for any G-W Women in Crisis services.
-
MIAMI ART BASEL, PEREZ ART MUSEUM MIAMI
Miami Arts Museum Art Basel Miami Party, VJ Hoop Loops Screening, Performances by Malcolm Stuart, The Hoola Monsters and Kayti Bunny RobertsMiami Arts Museum Art Basel Miami Party, VJ Hoop Loops Screening, Performances by Malcolm Stuart, The Hoola Monsters and Kayti Bunny Roberts
Screening of 'Hooping Life' at Art Basel in Miami.
Organizer: Terry Schechter, Trustee

-
UNIVERSITY OF CINCINNATI
Screening and Hooping for Health and workshop with Karis
The event was a complete success!!! The Hooping Life is a film with interesting and varied characters that offers a history of the hoopdance movement.
We loved it, and we loved having Karis on hand for the workshop.
By Zoe Seiter, President, The Hoopdance Cats
-
BOSTON HOOP TROOP
Lollihoops & The Boston Hoop Troop, Medford, MA – Screening
The Boston Hoop Troop was honored to host The Hooping Life! The screening was a great reason for hoopers from all over New England to gather, spend time with old friends and meet new friends. It was a great catalyst for strengthening our community and making new connections. The film was wonderful. The stories told resonated deeply with many of our community members including the non-hooping friends and significant others who were in attendance. We are grateful to have had The Hooping Life come to Boston and we look forward to screening it again in the future!
By Lolli, Founder, Lollihoops
-
WELL ROUNDED HOOPS, TORONTO, CANADA
Mandy Harvey & Well Rounded Hoops, Toronto, CANADA – Screening
Well Rounded Hoops was thrilled to bring The Hooping Life to the Toronto Hoop community on February 29th. Inspiration was unanimous and palpable after the show. Even the non-hoopers who came to support their partners & friends, left with an insight on why we love hooping so much. After the film, we celebrated with performances, a DJ and of course a hoop jam – the smiles were everywhere! We were honored to be a part of the process of spreading the love. We also want to THANK everyone involved in making this film possible. Every hooper truly needs to see this, as well as anyone who has a love of movement arts, inspiration and life. It reaches out to everyone – The Hooping Life is unquestionably the best hoop film every made! We loved it!
By Mandy Harvey, Founder, Well Rounded Hoops
-
REVOLVE HAWAII
Lacey Coop, Sirkka Aho & Revolve Hawaii, Honolulu HI – Screening, Silent Auction, & Workshop with Anah
Part of the proceeds go to Girl Fest Hawaii, Preventing violence through education & art
Lacey & Sirkka's special screening surprisee: a Hooping Life cake!
The Hooping Life was an unforgettable experience that taught us about taking a leap of faith with a good dose of hard work. We were pleased and honored to of had inspirational hoopers like Heather Troy of Hoopcamp Retreats and Anah 'Hoopalicious' Reichenbach a film star, and hoop dance pioneer join us on Oahu for the first screening in Hawaii. Preparation is key as well as helping hands to bring all the pieces together. We incorporated a local art auction including items hoopers would enjoy. One element that could have been added more was live music and space for people to hoop freely. It was a great event to expose a community that otherwise wouldn't have known about hooping and took away something to inspire their movement. The Hooping Life continues here everyday and we hope to receive requests for an additional showing soon!
-
INFINITY HOOPDANCE, EDMONTON, CANADA
Nina Wosar & Infinity HoopDance, Carla Snow & the FlowLab, Edmonton, Alberta, CANADA – Screening, Workshops & Hooping Showcase
Nina & Carla's special hot tip for screenings:
An iron + a white fitted sheet + transfer paper + a bunch of logos = a professional red carpet backdrop!
Listen to them on the CBC Radio show for The Hooping Life screening in Edmonton.
-
SAN JOSE, COSTA RICA
Marty Bernard, Hoopnosis Costa Rica, Costa Rica, Screening & Performances for Dia Mundial de Hula Hoop
We LOVE The Hooping Life! Thank you for bringing it to San Jose, Costa Rica.
by Marty Bernard, Founder, Hoopnosis Costa Rica
-
HOOPINESS HOOP DANCE IPSWICH, AUSTRALIA
Vanessa & HoopiNess, Ipswich, Queensland, Australia – Screening & Performances, MC by the great Carmen Taykett
Thanks for creating a fantastic opportunity to bring people together.
The film is amazing!!!
It was such a pleasure to be able to share it with other people, and everybody LOVED IT!
The event went perfectly smoothly.
Thank you so much for sharing.
Mobile Motion Pictures provided equipment for the Ipswich, Qld, Australia screening of this movie.
by Vanessa,founder, HoopiNess
-
THE HOOLA MONSTERS, SARASOTA, FL
Abby Albaum & The Hoola Monsters, Sarasota International Film Festival, Screening, Workshops by Baxter & Anah, Hoop Jam, Performances by Karis, Anah and The Hoola Monsters
A great screening and performances in Sarasota, Florida, as part of the Sarasota International Film Festival, with performances.
-
HOOPCIRCLE, AUSTIN, TX
Laura Scarborough & HoopCircle, Austin, TX – Screening
The Hooping Life screening in Austin went without a hitch, thanks to the great organizations skills of Hoopcircle.
Yeehaw, and thank you Austin!
-
HULA HOOP PROJECT, ALEXANDRIA, VA
Janet Cliatt & The Hula Hoop Project, Alexandria VA – Screening
The Hooping Life proved a successful tool for growing a hooper community in Alexandria. We unite: Salsified Hoopers, Herdon Hoopers, The Hula Hoop Project, Kingstowne Women and metro area hoopers (NC & Penn) and few yoginis of the Landmark Mall (Studio Shopping Center).
By Janet Cliatt, Founder, The Hula Hoop Project
-
HOOP ESSENCE, ATLANTA, GA
Rebecca DeShon & Hoop Essence, Atlanta, GA – Screening & Performances
A flawless screening, organized by Atlanta's Own Hoop Essence and presented by some very nice people. Plenty of hoopers were in attendance, and the performances were stellar.
How's that for southern hospitality?
-
ST. LOUIS HOOP CLUB AND HOOP CONNECTIONS
Erica Keller & Hoop Connections, St Louis, MO – Screening
Screening The Hooping Life is St. Louis was inspiring. It was great to hear and see the stories of so many individuals that have had their lives touched by hooping.
Our event hosted the screening, testimonials, a performance showcase, workshop, and spin jam.
It was a packed and hoopy kind of day.I would highly recommend other hooping communities to watch this film.
-
HOOPRAMA, NASHVILLE, TN
Sunny Beck, Hooprama, Nashville TN – Screening
A great screening in Nashville, Tennessee, hosted by ober-cool Hooprama. Thank you for sharing Hooping Life!
-
RAINEDANCEHOOPS, OTTAWA, CANADA
Sirenhoops & Rainedancehoops, Ottawa, CANADA – Screening and Hoopjam
A screening followed by a Hoopjam? What's not to love. Thank you Ottawa, Canada!
-
HOMESPUNHOOPS, CHARLESTON, SC
Kacey Douglas & Homespunhoops, Charleston International Film Festival, SC – Screening
A screening of The Hooping Life - hosted by Homespunhoops, as part of the Charleston International Film Festival in South Carolina.
-
COLUMBUS HOOPING, OH
Jeana Deletra & The Columbus Hooping Collective, Columbus, OH – Screening
A screening of The Hooping Life - hosted by The Columbus Hooping Collective.
-
SPIRITHOOPCAKE, MILTON KEYS, UK
Janine Haynes and SpiritHoopCake, Milton-Keynes, UNITED KINGDOM – Screening, Workshop & Performances
A UK screening of The Hooping Life, hosted by the inimitable SpiritHoopCake in Milton Keys.
The attendance was great, and everybody loved the film. Cool Brittania!
-
PUNK ROCK HOOPS, HOUSTON, TX
Rowan TwoSisters and Punk Rock Hoops, Houston, TX
What happens when Punk Rock, The Hooping Life, and Houston combine? The answer is: An awesome time.
A great screening in Houston, with lots of happy hoopers in attendance.

-
HOOP CAMP, SANTA CRUZ, CA
Heather Troy from Hoop Camp, Santa Cruz International Film Festival, CA, Screening, Hoop Jam by Heather Troy from Hoop Camp and Performances by Anah, Christabel, and many more
Hooping Life plays the Santa Cruz International Film Festival in Santa Cruz, CA.
An excellent screening, and a great day overall. Santa Cruz <3's The Hooping Life.
-
CIRCLE MOTION HOOPS, HUNTSVILLE, ALABAMA
Chrisha Favors, Circle Motion Hoops, Huntsville, Alabama, Screening & Performances/
The screening was organized for World Hoop Day. There were door prizes, hoop raffles, an indoor hoop jam after the film, and vendors on hand.
We absolutely LOVED The Hooping Life here in Huntsville. And the performances were incredible. Check them out [at the links below].
By Chrisha Favors, Founder, Circle Motion Hoops
ISLAND HULA HOOPLA, VANCOUVER, CANADA
As part of Elevate the Arts Festival
The movie was excellent and was indeed an opportunity for growth in my local hoop community.
People came from our community and the surrounding communities (Nanaimo, Vancouver, Campbell River and Qualicum Beach) to see the film. It was a great excuse to get out of our regular lives and venture out that little bit extra. We'd all been vaguely saying we need to get together and until the screening, it was all just 'wishes on the wind'. It was nice to have that rare chance to all be together in one room.
And I did meet my goal of getting the costs of the screening covered by donations and private sponsors, who in turn received 'merchandise surprise packs' of the goodies you sent. I added some creations of my own to round out the packages.
Also, I have gotten some new hoop students because of that night – so that makes me happy!
Having the venue,advertising and equipment covered as part of Elevate The Arts festival was KEY – I probably wouldn't have tried to pull it off as a stand-alone event in my smaller town. It would have meant higher costs and much, much more work.
The communication I received from you and the director was solid. I really felt like you 'had my back'.
Thanks for all you do and all you are! I really hope to meet you in person some day!
by Tracey Mantha
-
THE DENVER ART & FLOW COMMUNITY, COLORADO
Performances and screening
I very much enjoyed premiering The Hooping Life in Denver, Co! Over the years I have befriended many amazing and talented hoopers in the community from all over, so my first thought was to not only premiere the movie, but to bring in some exciting performers as well. Nick Guzzardo, Veronika Goodnight, Danielle and Kanyon, GroovinMegzz, Che Rippinger, and Tetra Incendia just to name a few.
We had vendors and they all donated an item for us to raffle off at the end of the event, even Astral Hoops donated an Illuminati Hoop! I designed an 11×17 poster promoting The Hooping Life: Denver Style that I got printed and hung around town. We made a Facebook event early and everyone who was part of the event shared with their friends. The Hooping Life moved me so greatly because it really puts into perspective what you can truly do with this beautiful circle. You can dance and express yourself with the hoop however you desire, and the stories of these 6 individuals from the movie allow viewers to truly absorb the versatility and beauty of the HulaHoop, and what it is to HoopDance in different walks of life.
Thank you to Amy Goldstein, Basement Jaxx and everyone involved in bringing this documentary into a reality. Having the event really brought a bunch of local hoopers in the area together who didn't even know about each other! I myself met hoopers who live right down the street from me! I feel this event definitely created community amongst us and everyone left with a big smile on their face!
I am grateful to have been a part of this moving documentary, The Hooping Life. Thank You!
by Holly Hoops
-
OTTAWA HOOPERS
Screening of 'The Hooping Life', and Performances, presented by Ottawa Hoopers.
We had a great turnout and a full evening of hooping fun here in Ottawa, Canada.
Thanks, The Hooping Life!
By Ottawa Hoopers
-
HOOPURBIA WITH REBECCA HALLS, BERLIN, GERMANY
Screening of 'The Hooping Life' in Berlin, hosted by Rebecca Halls.
An excellent screening of 'The Hooping Life' here in Berlin! Thank you to the whole team at The Hooping Life!
-
HOOPERA WITH LILA CHUPA-HOOPS, PARIS, FRANCE
Screening of 'The Hooping Life' in Paris
A flawless screening in the city of light, with electrifying performances!
A Grand Merci! to the director, stars and team from 'The Hooping Life'.

-
AUDACIOUS HOOPS, GRAND RAPIDS, MI
Audria Larsen aka Miss Audacious, founder of Audacious Hoops, Grand Rapids, Michigan, Screening, Guest Performances, Hoop Vendors, Hoop Jam
A community celebration of World Hoop Day in Grand Rapids, MI. Audacious Hoops is proud to present the Michigan Premiere of The Hooping Life Documentary on World Hoop Day
-
THE HOOP PATH AND FLOW JO, NORTH CAROLINA
Seeing The Hooping Life last night for the first time was deeply moving. I felt particularly blessed to be sitting next to Anna when brief, unexpected footage of Elias drumming for Baxter came onscreen. Breath was taken away, tears in its place. We had no idea the movie had been dedicated to him. Thank you Amy ♥
By Vivian Spiral http://www.hooppath.com/, http://www.theflowjo.com/
-


HOOP (LOVERS + EMPIRE +FUSION), MELBOURNE, AU
Deanne Love and Hoop Lovers, Bunny Hoop Star and Hoop Empire, Tarnya Gillies and Hoop Fusion. Hoop shows, Screening, and Hoop Jam
"SO INSPIRING!!! SO BEAUTIFUL STORIES!!!" Catherine Imola Zain
"WOW." Del Dionysus Jane
The first Australian screening of the US made movie, the Hooping Life was presented and supported by Hooplovers in Melbourne. Screened over two nights October 6 & 7 at the Irene Arts Warehouse in Brunswick East. Each screening night included an array of spectacular hoop shows from the local and national hoop community and followed by a hoop jam. A very special two day event, the first of it's kind in Australia.
www.hooplovers.com
www.hoopempire.com
www.hoopfusion.com.au
www.thehoopjourney.com
-
THOUGHT SPORT, NAROOMA, NSW, AUSTRALIA
The Vortex Sisters, Narooma, New South Wales, Australia. Screening, pre film performance and Hoop Jam afterwards
I really enjoyed the film as did the folks who came along. The performance and hoop jam after the film went extremely well and I think we even got a few newbie hoopers inspired to participate.
by Linda Appelgren
-
VISUAL VORTEX SPIN COLLECTIVE, SPOKANE, WA
Stefani VanDeest, Visual vVrtex Spin Collective, Spokane, Washington, Screening, Performances, DJ, Raffle
Screening, performances and a raffle? What's not to love. Spokane brings it legit. Thank you The Hooping Life!
-


THE CHICAGO HOOPING NETWORK

Chicago screening of The Hooping Life.
A great screening of The Hooping Life in the Windy City. Thanks Chicago!
Sara Janssen of The Happy Hoop shares her Hooping Life experience.
-
THE HOOP MOVEMENT, NEW YORK
Screening and Hoop Dance
The screening was a great success and we had a blast celebrating Hoop Dance with you, New York!
by Amy Rogers, Founder, The Hoop Movement

-
THE HOOPLIGANS HOOP COLLECTIVE & HOOPTOPIA, SALT LAKE CITY, UT

-
WINNIPEG, MANITOBA
Fame Nightclub, screening and performances
The Hooping Life finds Fame at Fame Nightclub in Winnipeg, Canada. With special performances after the screening, it was a truly illustrious event.
Manitoba rocks.
-
HOOPER TROOPERS, CO-MOTION STUDIO, MEMPHIS, TN
Hooper Troopers, Co-Motion Studio, Charity Siebert, Memphis, Tennessee, Screening & Hoop Jam
"The Hooping Life isn't just a documentary on hooping changing lives, it seems very inspirational and life-changing, itself."
-- Sherri McCalla
Giant thanks to Keith and Emily Cadwallader for donating their time and equipment to keep everything moving and grooving, and the Memphis Botanic Garden for the amazinweg space.
We had ~100 guests in attendance. Thanks to our minimal costs and the generousity of our communities, we raised approximately 00 for recreational therapy programs at Youth Villages.
-
PORTLAND, MAINE
Screening in Portland Maine hosted by Jennifer Raymond.
The screening was a success, and the turn-out was incredible.

-
MERIHOOPS, SEATTLE, WA
Mary Decker, Merihoops, Seattle, Washington, Screening & Performances
The screening was organized for World Hoop Day at the Seattle International Film Festival Film Center.
"The film was awesome"
--Lisa Russell